Highway bus seat availability
About JAPAN BUS LINES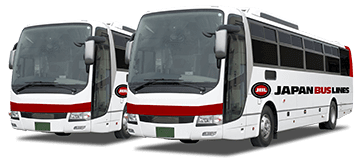 One of the biggest highway bus network in Japan
Japan Bus Lines is a bus network consisting of over 60 bus companies throughout Japan. Our website allows users to search more than 100 bus routes in English, Traditional Chinese, and Korean and has been used by many international travelers and residents of Japan since its establishment in 2016 as one of the biggest bus network.
At Japan Bus Lines, our customer center staff speaks English to assist you in your travel. We provide a safe service for those who are new to using Japanese buses.
Choice of seat variations

Choice of seat variations

There is a wide variety of seats on Japanese express buses. You can choose from normal casual seats and luxury seats to suit your budget.
Also see the icon for various specs such as Wifi included, toilets included, number of seats in one row and reclining.

How to take a bus

How to take a bus

You will receive a reservation confirmation email with instructions on where to get on and off and how to get on the bus. You can change or cancel your reservation from MY PAGE. We will also send you an email before your departure date.

Payment method

Payment method

You can pay by credit card.
Acceptable cards
Visa, MasterCard, JCB and American Express.
About Bus in Japan
Compared to airplanes and bullet trains

The number of express bus users in Japan is about zillion a year. It is a widely popular mode of transportation.
You can choose the nearest bus stop from a large number of pick-up and drop-off points, saving you the time of getting to the terminal station or airport like other modes of transport.
There are also flights that leave at night and arrive early in the morning, so you can travel during the night and enjoy a full day in the morning.

The benefits of traveling by express bus

Express buses are cheaper than airplanes and bullet trains, and you can choose the type of seat that best suits you from casual to luxury. The seats are reserved, so you don't have to stand in line to get a seat.
In addition, night buses are a very convenient way for travelers who want to save money on accommodation and travel while they sleep.

Night bus and day bus

The night bus leaves in the evening and arrives at the destination the next morning. On the other hand, a daytime bus is a bus that travels during the day and arrives at its destination later in the day.
You can choose your favorite type of bus from "day bus" and "overnight bus" reservation routes.